Reinhardt students donate 7,000 books to Nigeria through AfrikaREADS
Students of Reinhardt University have donated more than 7,000 books to Nigerian universities as part of an effort to provide much-needed educational materials to communities in Africa through their AfrikaREADS project.
The international outreach program is spearheaded by Reinhardt's African Descendants Student Association led by faculty member Tunji Adesesan.
"The association was created in 2012 by a couple of students of African descent who felt the need to start an organization on campus to represent them, their culture, and their heritage," Adesesan said. "As a way of giving back to the continent, we started a book drive."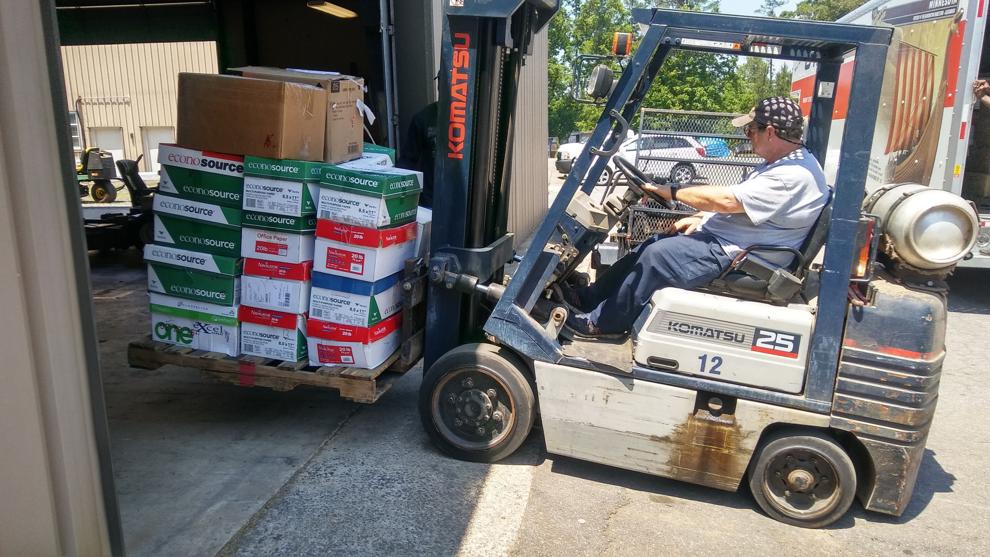 Adesesan said they were able to raise 2,500 books for Ondo State University in 2013 and 3,500 books for Obafemi Awolowo University in 2014. Also in 2014, they gave 2,000 books to GoodNews international school in Delta state, Nigeria, and in 2015, they gave 5,000 books to Edwin Clark University in Warri.
Last year, they gave another 5,000 books and 50 computers, printers, and overhead projectors to Edwin Clark University in Warri. Through the donation, Edwin Clark University was able to get its accreditation, and they have the largest collection of books from Reinhardt University.
"We are indeed indebted to you and we appreciate you," said Professor Timothy Olagbenro, present of Edwin Clark University to Adesan in a letter. "As you honor us with these efforts and books, the good Lord will honor you too in the name of Jesus."
This year they gave 500 books to an orphanage in Nigeria, which helped the kids to create a library, and they already have another 500 books to give to the orphanage this summer.
"This year, we have 7,000 books and 150 computers and other stuff that we are donating to two universities in Nigeria," Adesesan said.
More than 100 students participated in the book drive this semester. The African Descendants Student Association and DREAM (African American Association) collaborated to have two book-stamping parties where the books were stamped and packaged for shipping. All the students in ADSA participated in the drive.
"I have been a member of ADSA since my freshman year of Reinhardt," said Reinhardt senior Deborah Dahn, 21. "My friend and former president Paridas Gouba as well as my mentor Tunji encouraged me to join. This project is important to me because I am helping my university to make a difference by giving back globally. It is important to know that anybody can impact the world."
Norton Elementary School in Snellville donated 398 books this year. In the past, there have been several school partners in the book project including Fannin County High School, Chattahoochee Tech and Pickens High School.
Key donors in the effort include the university's Hill Freeman Library and Spruill Learning Center, Reinhardt football players, Missy Dayoub and the physical plant staff, and the Student Government Association.
"The Eagle has done it again. We are flying higher," Adesesan said. "The donated books are on their way to Nigeria. Thank you so much for all your donations, support, and your help. We could not have done it without you."
The 14 pallets of books will be donated to a public college, the University of Ilorin in Nigeria, which Adesan was able to visit in June 2016. Books also are being donated to two private universities in Nigeria — Crownhill University and Afe Babalola University.
"We also want to thank the maintenance crew for all their help in picking up the books, as well as providing a space for us to store the books. A big shout out to the Reinhardt University library for all the wonderful books and support they have offered toward this project over the years," Adesesan said.
This year's project began earlier in the academic year, and Adesan said Pickens High School, Chattahoochee Technical College, and community members were among the donors for the project.
This effort of service, like many others at Reinhardt University, is part of the institution's overall mission to educate the whole person by developing the intellectual, personal, vocational, spiritual, and physical dimensions of its students. Through the values of faith, learning, and leading at Reinhardt, students are able to learn qualities that enable them to be well-rounded individuals, including volunteering for service projects outside the classroom.